Intercom Install & Repair
Back To Our Services
If you have installed a driveway gate at your house and are now looking for a phone enter system then you should call our gate repair and intercom expert company. "Gate Repair Solana Beach" has built up the reputation of being the best contractor in terms of quality work, products, speed and efficiency. We are reliable and dependable. We work with high quality brands, provide you the crème de la crème of their products, pay attention to your needs before we suggest a gate intercom system and, most of all, we are distinguished for our skills in Intercom Install & Repair.
Intercom repair and installation by expert pros
Gate intercom installation is important and perhaps necessary these days. This is especially true if you have a long driveway and you cannot see who is there. Having one of these systems installed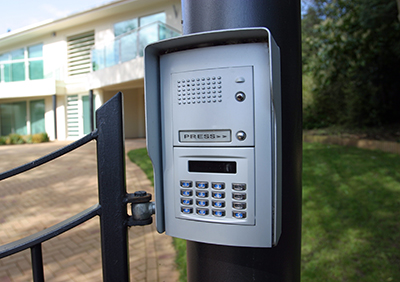 will give you added security. There are different kinds of these phone entry systems/intercoms for you to choose from. When it is to be used with a residential phone then it will have to be connected with the landline that you use at your home. After it is installed a visitor will have to buzz in from the gate. In order to open the gate the owner of the house will have to authorize the entry by pressing the button that opens that gate. The phone entry system also provides different codes for different people who are authorized to open the gate in order to have fast and easy access.
Intercom repair and installation requires expertise and accuracy. For this reason, all technicians at Gate Repair Solana Beach are trained and have great experience with Intercom Install & Repair. We know the differences between brands and types and follow procedures by the book. Of course, all professionals of our company come prepared to check, maintain, and repair intercom systems. We invest in high tech tools and equipment and make sure our vans are ready to ensure security with the right installation and repair of the proper Aiphone or Doorking intercom gate access system. If you need more information, don't hesitate to call us!